Hinton Blewett (grid ref ST593568) is situated 9 miles north of Wells, 12 miles south of Bristol on the Northern slope of the Mendip Hills on the edge of a designated Area of Outstanding Natural Beauty (AONB) and in the Chew Valley near to the source of the River Chew. The river Cam Brook rises in the Parish.
The village was known in the Domesday Book as Hantone; the 'Blewett' part of the name coming from the Bluet family who from William D'Eu held land from William the Conqueror. Hantone is believed to mean 'a poor enclosure' from the old English hean and tun.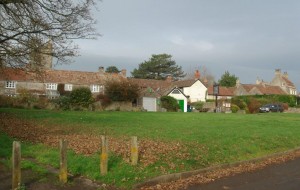 The focal point of the Conservation Area is the village green adjacent to the pub and the church, which is known as the 'Barbury' or 'forbury' which could have come from the Roman Latin for 'forum'. Copper coins from the reign of Emperor Claudius (AD41) have been found there.
The village name has changed several times over the centuries from Hantone, Henton Bluet, Cold Henton, Henton Blewett, to its present day Hinton Blewett.
The late William Rees-Mogg took the title of Baron Rees-Mogg of Hinton Blewett when he was made a life peer in 1988.
Hinton Blewett has a Parish Council which has some responsibility for local issues and, along with East Harptree and West Harptree, is part of the Mendip Ward which is represented by one councillor, David Wood, on the Bath and North East Somerset Unitary Authority which has wider responsibilities for services such as education, waste, tourism etc.
According to the 2011 census The Mendip Ward (which includes East and West Harptree), has 1,373 residents, living in 565 households, with an average age of 39.0 years